Benefits of Professional Teeth Whitening Treatment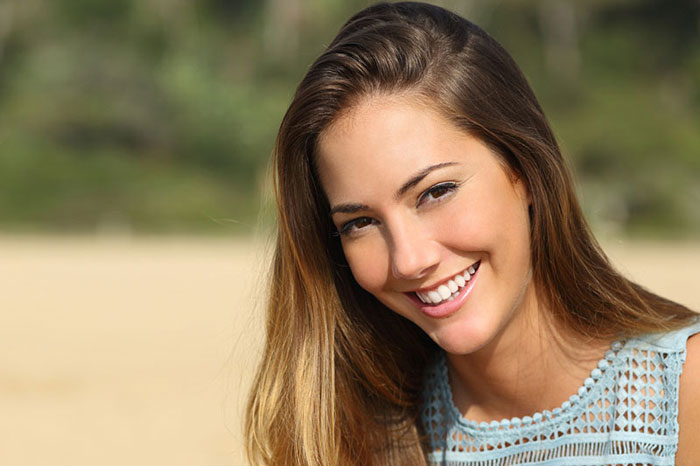 Your smile is important. It says a lot about you, encourages positive interaction with other people and generally makes you feel better about yourself. If your teeth are discolored, though, you will probably be too embarrassed to let others see them, and this can result in a loss of self-esteem.
Even if you brush and floss regularly, the passage of time can take its toll on your teeth, leaving unsightly stains that make you feel self-conscious. Some people with this problem look for over-the-counter remedies such as teeth whitening toothpaste or bleaching products.
The terms "whitening" and "bleaching" are often used to mean the same thing. Technically, however, any product that removes debris from teeth can be classified as a whitening product. The U.S. Food and Drug Administration (FDA) says a "bleaching" agent has to contain carbamide peroxide or hydrogen peroxide, which produce oxygen molecules that destroy the chemical bonds between stains.
Whitening toothpastes contain mild abrasives to polish the teeth and chemicals to break down stains. They can remove surface blemishes but cannot lighten deeper stains or change the natural color of your teeth, and usually, take up to six weeks to produce visible effects.
Bleaching agents, including strips and gels, are available to treat stains that go deeper than the tooth surface. Because they remain in contact with the teeth longer than toothpaste, they are more effective but can lead to irritation of the gums and increased tooth sensitivity.
The best and safest way to get your teeth sparkling white and healthy is by seeking professional treatment. Products available to your dentist contain stronger bleaching agents than you can buy over the counter, and so produce better results.
Some store-bought bleaching products can harm the enamel of your teeth, according to DocShop, the online resource that helps people find experienced healthcare professionals. DocShop adds that dentist-supervised whitening systems are safer and more effective at penetrating and removing deep-set stains.
Why Professional Whitening is Better
Professional Teeth Whitening is much safer and more comfortable because it's performed by an expert who monitors the process every step of the way. The level and concentration of the whitening agent can be adjusted, and your gums and other parts of your mouth are covered for protection.
A professional teeth whitening treatment typically takes less than an hour and eliminates repeat applications of messy, over-the-counter whitening products. An experienced cosmetic dentist can lighten discoloration of enamel (the hard surface of the teeth) and dentin (the material underneath enamel) to produce dramatic results, with teeth becoming many shades whiter.
Besides cosmetic factors, professional teeth whitening provides oral health benefits. With the removal of stains during a professional whitening session, your teeth will become stronger and healthier, improving the condition of your entire mouth. Backed up by a good routine of oral health care at home, including brushing and flossing, the results of professional teeth whitening are reliable and long lasting.
A further benefit of teeth whitening by a professional is that the process is customized to your individual needs to provide the exact level of brightness you're looking for and in the areas, you want it most. Your dentist will also give you advice on how you can help to keep your teeth gleaming after treatment by a daily oral health care routine (brushing, flossing and using a mouthwash) and avoiding drinks such as coffee and wine.
Professional teeth whitening may also be a good investment in your professional life. Results of a study by market research specialists Kelton Global, on behalf of the American Academy of Cosmetic Dentistry (AACD), found that people with an attractive smile were regarded as more successful and smarter. The American Journal of Orthodontics & Dentofacial Orthopedics (AJO-DO) says that how a person looks can affect their ability to land a job, and that people with "ideal" smiles are considered more intelligent.
Custom-made whitening trays from a dentist for use at home provide a highly-effective alternative to store-bought trays. Spokane Dental explains that "These trays fit your mouth specifically, ensuring that the whitening agent is evenly spread over your teeth and avoiding contact with the gum tissue, which can cause irritation." Dentist-prescribed whitening trays use a gel with a lower concentration of peroxide than in-office treatment, posing little risk of gum sensitivity.
How to Find the Right Dentist for Teeth Whitening
Many dental offices offer teeth whitening, but, because the treatment can mean so much in terms of improving your appearance and confidence, it's important to be selective in your choice of dentist.
When considering professional teeth whitening, look for a practitioner who's a member of the American Academy of Cosmetic Dentistry (AACD) and performs whitening treatments regularly. Ask whether they're up to speed with the latest technology in teeth whitening, such as laser treatment and deep bleaching. Popular professional whitening systems include Zoom, BriteSmile, Opalescence, and LumiBrite.
While expertise and technology are important, you'll also want to find a dentist you can be comfortable with, so find one that really listens to your concerns and goals without trying to pressure you into treatment you don't want.
A Sound Investment to Get the Feel-Good Factor
Although professional whitening costs more than over-the-counter treatments, it's a good investment for dramatically enhancing your appearance and self-regard.
Compared with at-home treatments, teeth whitening by a dentist will get your teeth brighter more quickly. The bleaching agent used by a professional is usually much stronger than that in over-the-counter kits, and a combination of heat and light may be used to intensify the whitening process.
For the best results of teeth up to eight shades brighter, it usually takes several 30 to 60-minute visits, although some dentists use technology like the Zoom system that can accomplish amazing results in a single two-hour appointment.
When we smile, our body produces endorphins, the hormones that make us feel happy, and having clean, healthy teeth will encourage you to smile more. Professional whitening will boost your self-confidence in all walks of life by eliminating embarrassment about your stained or discolored teeth and giving you back your gleaming smile in no time.
Please login to publish a comment.
Comments (0)