Why Choose Invisalign?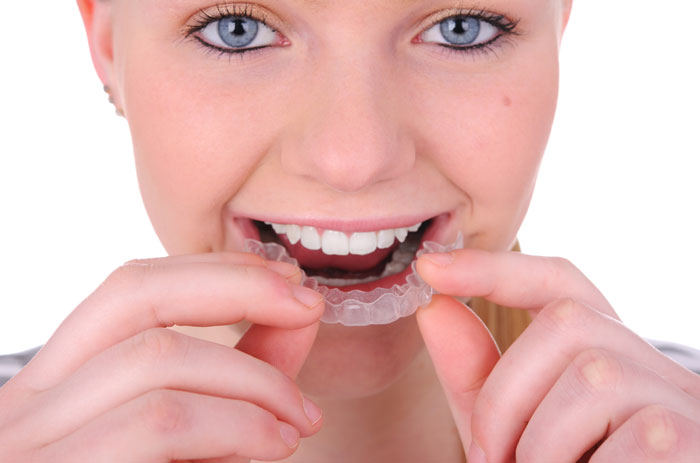 People who are embarrassed about showing their smile because of crooked teeth are increasingly turning to an innovative, cutting-edge alternative to traditional dental braces. The Invisalign system of teeth straightening has taken the world of orthodontics and cosmetic dentistry by storm over recent years, and these aligners have become the most popular removable braces.
With none of the brackets and wires that come with conventional metal braces, Invisalign appliances are removable, allowing for more thorough brushing and flossing, lessening the risk of gum infections and tooth decay. Another plus with Invisalign is that you can eat and drink whatever you want, and you can remove the aligners to take part in sports and similar activities. Another benefit of Invisalign is explained by Dr. Katz from Silver Lake Orthodontics is, "The Invisalign aligner trays are practically invisible. They're made of clear, medical-grade plastic that gently changes the position of teeth over time. Though the final outcome is often dramatic, the Invisalign system itself is subtle and hardly noticeable."
Compared with traditional braces, Invisalign aligners have smooth edges that make them more comfortable, and they provide far more control, through a series of precisely timed and regulated movements of the teeth, with just a few teeth being repositioned during each stage of the process.
Invisalign devices – as the name suggests – are made from medical-grade polyurethane resin (clear plastic) that's practically invisible.
The Invisalign Process
Invisalign aligners are customized for a precise, comfortable fit. Each aligner in the treatment process moves your teeth slightly, vertically and horizontally and even rotating them when needed. They are engineered to deliver the right amount of force in the right place at the right time.
Each Invisalign appliance in the series is worn 22 hours a day for about two weeks before you move on to the next one. Each successive alignment moves your teeth closer to the ultimate goal – giving you back your winning smile – which is typically achieved within 12 months, with visits to the dentist only every four to six weeks.
Health Benefits of Invisalign
The American Dental Association (ADA) says straightening your teeth can dramatically improve your dental health.
Teeth that are too widely spaced or crowded can lead to gum disease. When teeth are positioned properly, it helps the gums to fit better around the teeth, strengthening defense against potential periodontal problems.
Traditional braces pose a major problem in removing food particles that become trapped in the brackets and wires. This can result in an accumulation of plaque and eventually tooth decay and gum inflammation. The American Dental Association says these oral health issues can lead to diabetes, heart disease, stroke, and pneumonia.
Because Invisalign aligners are removable, you can brush and floss your teeth as normal, maintaining a high level of oral hygiene.
Who Can Benefit from Invisalign?
Invisalign can fix many problems caused by misalignment of teeth, including bite issues and gapped or overcrowded teeth.
• If you have an open bite, the upper and lower teeth don't make contact properly. This can cause pain when eating and difficulties in speaking clearly. It can also result in even more serious issues such TMJD (temporomandibular joint disorder), which affects the joints and muscles between the lower jaw and the base of the skull.
• A deep overbite occurs when the upper front teeth overlap the lower front teeth. This can cause significant jaw and teeth problems, and also spoil the facial appearance.
• Painful jaw issues can also be caused if you have an underbite problem, when projection of the lower teeth beyond the upper teeth impairs the function of molars and front teeth, resulting in tooth wear.
• With a crossbite, misalignment of the dental arches causes the upper teeth to bite on the inside of the lower teeth, which can wear down your teeth and cause gum disease.
• Gaps between teeth expose the gums to a greater risk of periodontal pockets that provide a home for the harmful bacteria that cause gum infections.
• If your teeth are overcrowded, the condition can worsen with time, resulting in teeth that are severely crooked. This can lead to an accumulation of plaque, increasing the risk of gum inflammation and tooth decay.
Whatever your teeth misalignment problem, Invisalign can turn your life around by boosting your self-regard and allowing you to show off the smile that truly mirrors how you are feeling.
No Messy Impressions!
Invisalign is typically used in conjunction with 3D computer imaging, a non-invasive and painless process that provides far greater patient comfort than traditional impressions created by filling the mouth with a sticky substance to produce a mold – particularly unpleasant for kids and anyone with a strong gag reflex.
Digital dental imaging is also less intrusive than conventional 2D X-rays, and unlike old-style film X-Rays, CAD (computer-aided design) dental technology provides an open environment that helps to eliminate feelings of claustrophobia.
Invisalign for Teens
According to the American Association of Orthodontists (AAO), patients aged 12 to 17 make up over half of the two million people who start orthodontic treatment in the U.S. each year.
A survey in 2014 by Kelton, a leading global research firm, found that 96 percent of teens in the U.S. were unhappy with their smile and are insecure about their overall appearance. Thirty percent were most self-conscious about their teeth.
Nearly half of Invisalign Teen users surveyed reported a boost in self-esteem during the treatment process, compared with just 22 percent of those wearing metal braces.
The Brains Behind Invisalign
The Invisalign system was developed by Align Technology, the U.S.-based global medical device company, which describes Invisalign as "the most advanced clear aligner system in the world."
Invisalign can be used to treat simple or complex cases and features a proprietary SmartTrack system for more predictable and controlled realignment of teeth, with results that are easy to see at every stage of the process.
Align Technology says Invisalign treatment costs about the same as that of conventional braces and is covered by many orthodontic insurance plans.
Find a Certified Invisalign Dentist
Invisalign allows you to get on with your everyday life with none of the inconvenience associated with conventional braces. If you're looking for a teeth realignment system to make you feel better about your appearance, an Invisalign dentist will be able to guide you through the whole process and produce a customized plan of treatment that will restore your healthy smile and self-esteem.
Please login to publish a comment.
Comments (0)