Benefits of Dental Implants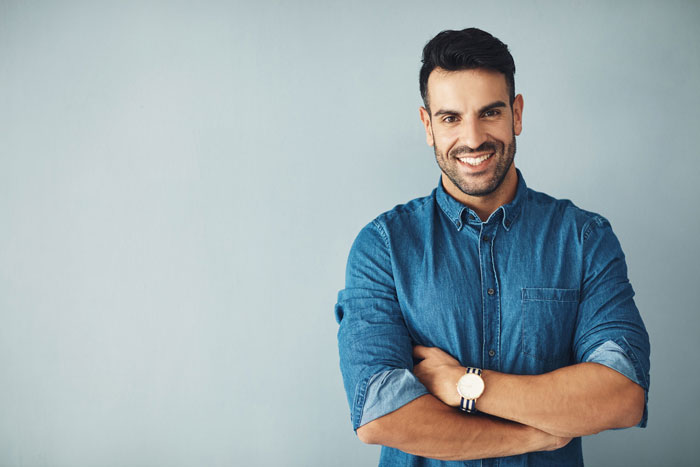 The main benefits of dental implants are their natural appearance and high degree of functionality. Implants feel and look like natural teeth, which has made them a popular, comfortable and convenient alternative to dentures and bridges.
Because implants look so normal – indistinguishable from real teeth – they do an awesome job of restoring your smile, and they let you eat and speak as usual.
A further benefit of dental implants is that they're stain-resistant. With routine oral hygiene, your implants – and your smile – will stay looking good. While many people find dentures bothersome, looking after implant teeth is just the same as taking care of natural teeth.
Implants have a high success rate – up to 98 percent – with a track record of long-term reliability and effectiveness. In fact, dental implants have the highest success rate of all surgical implant procedures.
Implants provide a permanent solution to tooth loss because they become part of your jaw, unlike bridges and dentures, which may have to be replaced over time.
The American Academy of Implant Dentistry (AAID)1 says implants are suitable for anyone in good general health whose jaw has fully developed. The AAID reports that more than 35 million people in the U.S. have lost all their upper or lower teeth, or both, and the number of patients getting implants is growing fast.
Besides restoring your smile, implants hold major health advantages over other tooth replacement systems.
Health Benefits of Dental Implants
One of the key health benefits of dental implants is that they help to prevent weakening of the facial structure by preserving bone.
Like muscles, bone deteriorates when not used. In the absence of stimulation from a tooth root, the supporting bone can begin to deteriorate and waste away. Bridges and dentures can't address this problem but implants provide an effective solution as strong tooth root replacements, becoming part of your jaw and maintaining its structural integrity.
After an implant – a small titanium post – is surgically inserted into the socket of a missing tooth, the jaw grows back around it, holding it securely in place. When the implant and bone have fused, an abutment is fitted to hold the artificial tooth firmly, and a crown is then attached to the abutment.
Another health benefit of dental implants is improvement in bite function. The biting force of dentures is much less than that of natural teeth and this can cause breakdown of bone. The bite pressure of implants is as strong as natural teeth. You can eat practically anything you want to, as opposed to having to avoid certain nutritious foods.
Implants also mean your remaining teeth stay healthy. Implants require no adjustments to adjacent teeth, and they help to prevent surrounding teeth from shifting out of place.
Implants Can Solve a Host of Problems
Implants are capable of overcoming a multitude of problems in the aftermath of tooth loss, which is a common problem, through cavities, gum disease or injury.
Gum disease (periodontitis) attacks the tissue and ligaments of the gums that anchor your teeth. Cavities (tooth decay) occur when sugar and starch that builds up in your mouth creates bacteria and acids that weaken enamel, the protective outer layer of a tooth. Injuries such as sporting mishaps can inflict severe damage to tooth roots.
Dental implants2 have become the tooth replacement system of choice for a lot of patients. Many people aged 45 to 65 in the U.S. are missing at least one tooth. One in four aged over 65 have lost all their teeth.
Your teeth play an important role in maintaining the structure of your mouth and enabling you to eat and speak properly. Gaps caused by tooth loss can have serious consequences. Just one missing tooth can move bite pressure onto other teeth. Over time, this can shift teeth into the space the missing tooth once occupied.
Missing teeth also make it easier for plaque to accumulate, leading to gum infections that can result in the loss of more teeth. Furthermore, visible gaps caused by missing teeth can be a source of embarrassment resulting in loss of self-confidence. The loss of just one back tooth can devastate your smile by bending your mouth out of shape and making you look older.
The Innovative, High-Tech Solution to Tooth Loss
Dental implants are considered the most innovative tooth replacement system, regarded as unique in:
• Providing a powerful bite function.
• Stimulating bone growth.
• Supporting surrounding teeth.
• Restoring confidence.
Implants represent a substantial breakthrough in dentistry and are now commonly used to improve the lives of people of all ages. Advances in implant technology – particularly computer-aided design (CAD) and computer-aided manufacture (CAM) – have made them affordable to more people.
Implant-supported artificial teeth are stable and robust, and allow you to eat and smile naturally – unlike dentures, they never shift or slip. Implants also eliminate the problem of slurred speech that can be caused by poorly-fitting dentures, and they keep the natural shape of your face.
Many different types of implant are now available, including mini and micro versions of the standard implant. Implant-supported bridges and overdentures are also proving a popular alternative to traditional bridges and dentures.
How Implants Can Turn Your Life Around
If you've lost one or more teeth, dental implants can transform your life in terms of both aesthetics and functionality.
Implants can restore your smile and confidence, and allow you to eat your favorite foods again. They maintain the structural integrity of your jaw and give you a bite power much stronger than dentures. Implants also provide stability for your surrounding natural teeth and can last for decades if you look after them properly.
If you're considering taking advantage of the many benefits of dental implants, an experienced implant dentist will be able to help you decide whether implants are right for you.
Resources
1. https://www.aaid.com/index.html
Please login to publish a comment.
Comments (0)